Apricity (a-PRIS-i-tee) : the warm feeling of the sun in winter
Latest & Greatest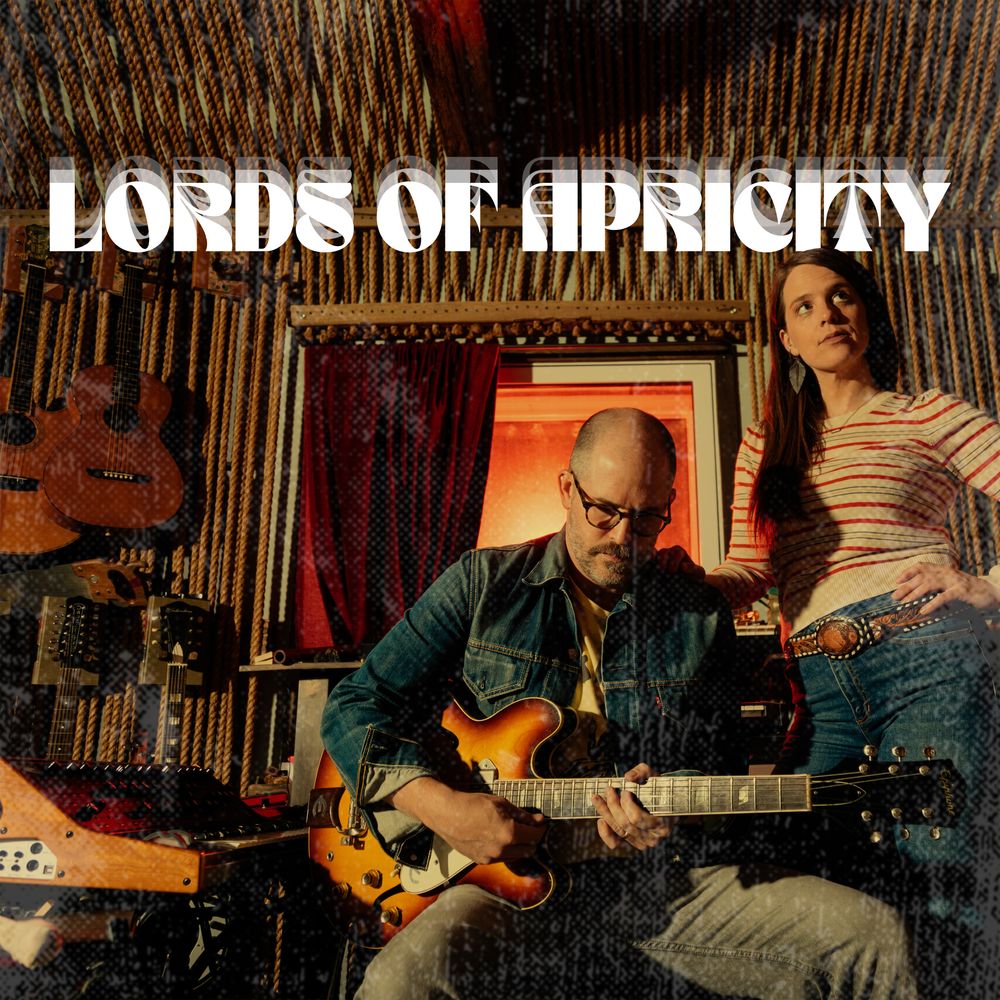 Debut EP Available NOW!!
"Rock is back!! Assuming you thought it went anywhere. Which it didn't."
Biography
Lords Of Apricity is the Wisconsin-based rock and roll project of songwriter and musician David Koenig. Earnest and sincere, together with a clique of collaborators, David assembled a spiritual rock and roll edifice with revealing lyrics and rollicking sounds. The self-titled debut EP deflty reconfigures the classic rock topography with paunchy riffs, consuming melodies, evocative swatches of blues and psychedelia, and progressive-minded songwriting. Lords Of Apricity's modern take on classic rock and roll is based on the intimately familiar foundation of the Rolling Stones, T-Rex, and The Doors, but renovated with a rhythmic sway and the vocal thunderclap of the one and only, Susan Renee Thiede.
 The songs were composed by David with co-writes from high school friend, former bandmate, and songwriting partner, Vinnie Kircher (JAILL, L'Resorts) as well as former bandmate and songwriting partner, Jered Shaw (Green Mountain Rebels, The Great Emu Wars), prior to a scheduled weekend-long recording session at producer/engineer Brian Joseph's (Bon Iver, Sufjan Stevens, Paul Simon, Indigo Girls, The Fray) studio outside of Eau Claire, Wisconsin. What began with a defined agenda to record the compiled songs, quickly turned into a spontaneous moment of true discovery. The musicians gathered for this session were pulled from separate corners of the Midwest, many of whom just met the day of recording and none of which have ever played together as a group leading to moments of unknown territories: For instance "Planet, Planet" abruptly transformed mid-session from a rocker into a mind-bending march of soundscapes exposing a future environmental dystopia while impromptu horns, piano runs, assorted percussion, and various controllers augmented and refined the albums veneer.
With the January snow falling outside the Hive's soundproof, barn-red walls, the warm embrace of speakers buzzing, tea cups steaming, and good-natured rambles down memory lane gave way to a musical consortium allowing the songs to adapt into a moment and evolve within the affable vibe suspended in the room. Any and all input, opinions, and questions were encouraged, welcomed, and discussed, permitting an uninhibited and exclusive space for collaboration and experimentation.
David, a full-time nurse, finds his musical inspiration living amongst the day-to-day customs and habits of society then engineers his observations in the sparse instances of isolation. Building upon his musical influences from a child (KISS, AC/DC, Aerosmith), his teenage years (The Rolling Stones, Led Zeppelin, The Beatles, Tom Petty), into adulthood (Phish, Wilco, John Prine), David writes music structured on origins that wander the decades and sample genres from bluegrass to 80's rock. The Lords Of Apricity project casts a nod with a wink to the guitar-based rock and roll that plastered the posters on David's wall as a child, lived in CD cases on the floor of his 1984 Plymouth Horizon during high school, and is now archived on infinite digital playlists and dedicated vinyl collection. 
Credits
Recorded at The Hive located in Eau Claire, Wisconsin in January of 2021
Mixed by: Brian Joseph (Eau Claire, WI)
Mastered by: Richard Dodd (Nashville, TN)
---
Brian Joseph : Engineer/Co-Producer
David Koenig: Co-Producer
Matt Tiller: Co-Producer
---
"Victory Song" (D. Koenig/J. Shaw)
Vocals: Susan Renee Thiede
Guitars: David Koenig
Bass/Guitars/Lead Guitar: David Johnson
Drums/Tambourine: Joe Gunderson
Keyboards: Matt Tiller
Lead Guitar: Lucas Fischer
---
"What It Takes" (D. Koenig/J. Shaw)
Vocals: Susan Renee Thiede
Guitars: David Koenig
Bass/Guitars/Slide Guitar: David Johnson
Drums/Tambourine: Joe Gunderson
Keyboards: Matt Tiller
Saxophone: Sue Orfield
Harmonica: Jered Shaw
---
"Planet Planet" (D. Koenig/V. Kircher)
Vocals: Susan Renee Thiede
Guitars: David Koenig
Bass: David Johnson
Drums: Joe Gunderson
Keyboards/Trumpet/Mini Marvin: Matt Tiller
Soma's Organismic Synthesizer: Mark Koenig
Harmonica: Jered Shaw
Speech: Greta Thunberg from Climate Action Summit Opening on September 23, 2019, New York City.
                Source: UNIFEED.  Link: https://www.unmultimedia.org/avlibrary/asset/2452/2452824/